« Return to Previous Page
ASSEMBLEON ITF FEEDERS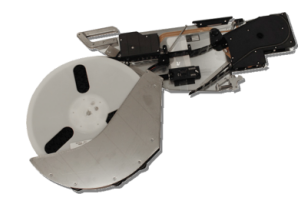 ASSEMBLEON ITF FEEDERS
---
Intelligent tapefeeders are available for 8 up to 88 mm tape widths. The feeders can
be loaded with 13″ tape reels (optional 15″ reel holder).
Embossed as well as paper tapes according to international standard IEC 60286 – 3rd
edition, can be handled. ITF feeders are also capable of handling PSA foil
types. ITF feeders are indexed by an electrical driven mechanism allowing a highly reliable
uninterrupted feeding process.
---
Description

Product Description

Assembleon range

1. ITF Intelligent tape feeders

2. TTF twin tape feeders

PA2654/0x : ITF2 8 mm Intelligent Tape Feeder

PA2654/1x : ITF2 12 mm Intelligent Tape Feeder

PA2654/2x : ITF2 16 mm Intelligent Tape Feeder

PA2654/3x : ITF2 24 mm Intelligent Tape Feeder

PA2654/4x : ITF2 32 mm Intelligent Tape Feeder

PA2654/5x : ITF2 44 mm Intelligent Tape Feeder

PA2654/6x : ITF2 56 mm Intelligent Tape Feeder

PA2654/7x : ITF2 72 mm Intelligent Tape Feeder

PA2654/8x : ITF2 88 mm Intelligent Tape Feeder

PA2657/0x : TTF 8mm Twin Tape Feeder